Political Marketing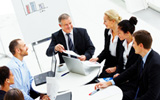 Extra Line handles your communication with the public. Reach out to your constituents through the specialized services we offer:
Management & Organization campaign
Communicating with Voters
Measuring Popularity
Events update
Measurement of Voting Intention
Polls
Recorded Message to the Candidate's Voice
Greeting Messages
Send S.M.S.
Targeted communication for specific parts of the public (male, female, age etc)
Personalized communication for each recipient by name
Detailed reporting and efficiency
The Political marketing helps you improve your image, transmit and communicate better your seats. The technology now offers tools for political marketing that even the great men of the past would envy.